aim4art is a voluntary community arts group, formed in 2009, dedicated to pushing our personal artistic boundaries. We aim to paint, aim to draw, aim to create art. We meet every Tuesday (10am-4pm) at The Barn, Hemlington, Middlesbrough, TS8 9DA. We have no regular tutor, but support each other and organise a programme of visits and workshops.
Latest News
Keep up with our latest news and announcements at aim4art.blogspot.com or on Facebook
10 Years of aim4art
aim4art is 10 years old this month. We are planning a proper birthday event in spring or early summer, to which all our friends will be invited. However, at our meeting on January 8th we marked the occasion with a celebratory pie!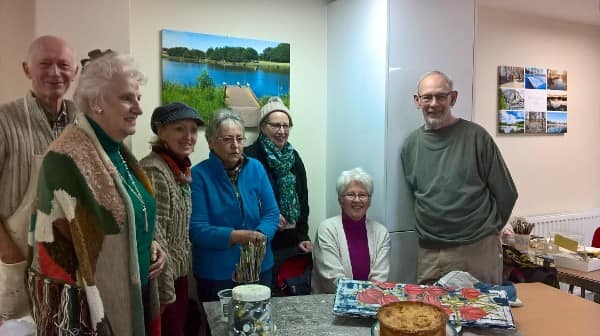 Spirit Of Place 2
Our exhibition at the Python Gallery, Middlesbrough, has now finished. We are now looking forward to our next exhibition at the Heritage Gallery in the autumn.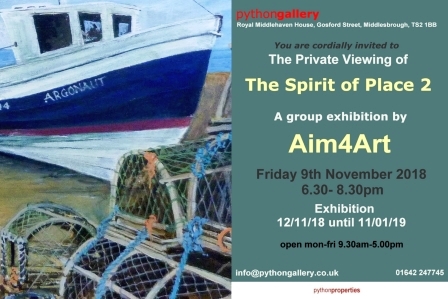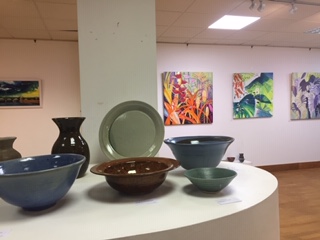 Julie Macbean
aim4art member, Julie Macbean is taking part in the forthcoming Open Art Exhibition at Ryedale Folk Museum from 23rd February. Should definitely worth seeing!

Future Exhibitions
Heritage gallery 2019
Following our exhibition at the Python Gallery in November, our next planned exhibition will be at the Heritage Gallery, Cargo Fleet, in autumn 2019. One idea is to investigate the Tees from Paddy's Hole to Piercebridge for an exhibition called called 'Framing The Tees', but we may yet have other thoughts. watch this space!
Julia Cutter has also been invited to mount a solo exhibition at the Heritage gallery in summer 2019 - Good luck, Julia!
Coming up in 2018/2019
More to come - watch this space! We are hoping to arrange some workshops in the near future.
| | | |
| --- | --- | --- |
| Date | Event | Notes |
| Spring/Summer 2019 | '10th Anniversary Celebration | Details to follow |
| July 2019 | Julia Cutter solo exhibition | Heritage Gallery |
| October 2019 | Heritage Gallery Exhibition | Possibly 'Framing the Tees' - The landscape and culture of the Tees from Paddy's Hole to Piercebridge. |
| | | |
Featured Artist: Gill Place
Gill's paintings, which typically combine looseness with precision, often have an ethereal quality to them. She is particularly inspired by the artist John Piper, and her work for our 'Spirit Of Place 2' Exhibition (belwo) illustrates that. Gill is also an accomplished poet, and has recently published a collection of poetry entitled 'The Romantic Engineer'.
Other Recent Albums

Visit our Gallery page to seeother albums of work, both by the group and by individual members. It includes work from our recent 'Freeze The Moment' Exhibition.

Right: Insects by Julia Cutter

New Pictures For Our Gallery

More new pictures from members always wanted for the Gallery! No album yet? See Rob. Bring your pictures in on a Tuesday and we'll photograph them for the website. We can also set up one of our Google Photos albums.
Contact Us
Email us at info@aim4art.org.uk
Site updated 18/11/2018